We help you create beautiful 3D printed Architectural Models.
Nothing beats the impact of a 3D model in communicating your design to all interested parties on a project:
clients
investors
developers
builders
planning commissions
public
Win more proposals.
Having the ability to look at a design from different angles and truly see it within context brings your project to life.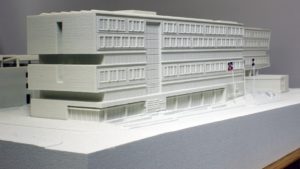 Our clients tell us that they experience a significant increase in the number of their proposals accepted based on having a high quality model that their prospective clients can see and touch. The models set them apart from their competition. 3D Printed Architecture models of your design can:
Wow your clients
Save time and money by addressing concerns before construction
Help sell a project to investors and the public
"We have seen a 20x return on our investment in 3D models we use for business development."
Whether you need models for the initial design, study models, final models or commemorative models let Forgge meet your needs. Forgge utilizes the excess capacity of the world's best 3D printers to provide you with the best models you have ever seen, in record time and at a fraction of the cost of traditional architectural models.
We take care of the file preparation.
Preparing the electronic file for 3D printing is often a complex task and can represent more than half of the total model cost. Modifications to walls, windows, internal structure and other elements to maximize the quality of the print require significant time and specific expertise.
Attempting to print a file which has not been properly modified can be costly. Our experts complete this work for you, to ensure you receive the highest-quality 3D printed model. Every time.
The Forgge process is simple.
1. Upload your CAD file (Upload)
2. File is reviewed and quote is sent to you
3. File is reviewed and prepped for 3D printing
4. File is sent to 3D printer
5. Receive your beautifully crafted models in as little as 48 hours
6. Be 100% satisfied with the results!